Veterans Benefits Consultants Package
Becoming a veterans benefits consultant is a way for attorneys, financial practitioners, care managers, home care providers and facilities to attract new clients or residents. Your investment in this package will result in more requests for your services and you will bring in a substantial number of new clients or customers. Below are the materials and services we provide with this package.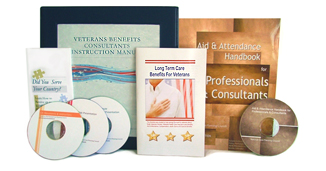 View the Package Content
The package price for NCPC members is $1,580.00 (regular price $1680.00).
If you have purchased the 2010 Aid & Attendance Handbook we will discount $100.00 from the price. If you are an attorney and do not need accreditation, we will discount another $80 from the price.
Call (800) 989-8137 to ask questions &/or to purchase the Veterans Benefits Consultant's Package.
You can expect the following from using our veterans benefits consultants package:
Disclaimer
Only three types of individuals are allowed by VA to represent veterans in the preparation, presentation and prosecution of claims for benefits. These are:
accredited representatives of service organizations,
accredited attorneys and
accredited agents
VA currently recognizes only about 114 accredited agents worldwide (there are, however, approximately 8,000 accredited veteran service organization officers). Not just anyone can become an "agent" for claims representation.
Accredited individuals can represent veterans by filing an appropriate VA power of attorney and, in certain cases, meeting a requirement for filing a fee agreement with the Board of Veterans Appeals in Washington, DC.
If you are not one of these three recognized individuals you cannot become involved in the process of filing more than one claim. You are allowed to help a veteran one time with one claim and that is it. You can't be involved in the claims process again for any veteran unless VA General Counsel approves it. In addition, the ability to charge fees for providing guidance about submitting a claim is limited. Involvement in the claims process starts at the point at which an individual you are meeting with expresses an intent to file a claim for veterans benefits.
Our definition of a Veterans Benefits Consultant is as follows:
A veterans benefits consultant is an individual who helps veterans understand long term care benefits available through VA. This can include information on veterans health care, state veterans homes and veterans disability income benefits. Consultants place particular emphasis on Pension and Death Pension because these benefits are typically more useful for the elderly needing long term care. Pension is also known as "the aid and attendance benefit."
Consultants provide information about the aid and attendance benefit including what it is, who can qualify and what information and documentation are necessary in order to file a claim. A consultant does not participate in any way in the application process unless that consultant is accredited by VA. For all other consultants, veteran households seeking help with filing a claim are directed to an appropriate veterans service organization or to a state or county veteran service representative or, where appropriate, they are encouraged to file a claim on their own.
The individual(s) on this site are private practitioners or in some cases representatives of veterans service organizations and are not connected with the Department of Veterans Affairs.
Become a Member:

Starting at $8.00 a month (including a one time $45.00 set up fee). There are no contracts / enrollment periods.
Our Statement of Purpose:


We Promote and Support Planning for Long Term Care
(1) To promote a public awareness of the need for long term care planning
(2) To provide materials to educate the public on how to plan for long term care
(3) To provide support to member eldercare experts who help the public plan for long term care
(4) To promote the services and expertise of our members
State Care Planning Councils:

List on your State's Web Site as well as the NCPC
Adding a listing to your state's website will bring your advertising close to home and double your presence on the internet. Learn more...