US Benefits Group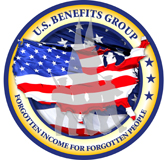 Assisting Veterans and their Surviving spouse in qualifying for the VA Aid and Attendance Benefit.
Veteran & Spouse: $25,525 / year
Veteran Alone: $21,531 / year
Surviving Spouse: $13,836 / year
As president of U.S Benefits Group Allan is well known for assisting hundreds of Veterans and widows in qualifying for this little known benefit.
Contact USBG now for a pre qualification interview.
Request Help or Information by filling out the form below