VETERAN BENEFITS AMERICA, INC.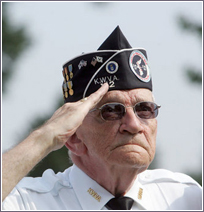 Veteran Benefits America has been working with veterans and their families for over 9 years helping them to understand how to use their personal resources along with public benefits such as Medicaid and Veteran benefits to assist with the expense of long-term care at home, in assisted living facilities, and nursing homes.
Veteran Benefits America works with assisted living communities, home health providers and nursing homes and is a Preferred Provider for Brookdale Senior Living. We work hand in hand with VA accredited Elder Law Attorneys and experienced financial professionals to ensure that our veterans and their families understand all the aspects and any possible implications when planning.
Kristi Knight is accredited by the VA as a claims agent for the preparation, presentation and prosecution of claims for Veteran benefits before the Department of Veteran Affairs.
Request Help or Information by filling out the form below