Altimate Home Health Care Services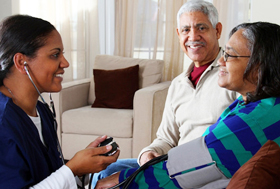 We work closely with the client, their physician, family members and care providers to maintain the client's health, and prevent further illness and injury.
Companion Care provides emotional support and companionship for seniors who are generally healthy and want to remain independent in their home. It can also include a range of non-medical services, including basic cooking, cleaning and support that help make a senior's life more manageable.
Our caring, professional staff offers you or your loved one customized assistance and hands-on care, twenty-four hours a day. We provide a full spectrum of private care in the client's private home, assisted or long term care facilities, rehab centers and hospitals.
Our staff will also assist with the personal care services needed to maintain independence in the home, including meal preparation, personal grooming, laundry, light housekeeping, medication reminders, companionship and caring for bed-bound clients. Physical therapy assists patients in regaining physical motion and strength. Our licensed physical therapists will evaluate the need for services and create a plan of care that allows clients to develop independence with daily activities.
Our Occupational therapists can help you regain your self-care skills right where you live, including fitting for prosthetics and training in the use of mobility assistive devices, fall prevention, customized exercise programs, balance training and motor skills rehabilitation.
Also, our full range of services includes: Alzheimer's/Dementia Care; Diabetes Care and Education; Disease and Injury Care Education; Hospice Care; Palliative Care; Personal Home Care; Sitter Services; and Speech Therapy.
Request Help or Information by filling out the form below