On The Move Rehab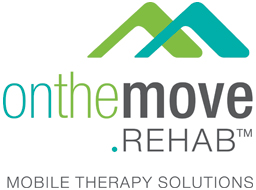 On The Move Rehab is a Medicare Certified mobile out-patient therapy provider offering Physical, Occupational, and Speech Therapy in the comfort of your own home. We come to you and provide treatment where you spend the majority of your time. We can also help you reintegrate into your community if you have been unable to get out for a period of time or are apprehensive about doing so.
Our expertise is older adults with our goal to help each patient age in place. If you are recovering from a hip or knee replacement, have had a stroke or are just feeling weak and like things are getting more difficult than they should be, we can help!
Our PTs are certified in the Otago Strength and Balance Program which is said to reduce falls by 35-40% so if you've had a fall, fear falling or know you are at risk for falls why not get involved with a balance program now before something bigger happens. We also provide aquatic rehab and Senior Fit Testing.
All therapy is provided by licensed PTs, OTs, and SLPs. We do not utilize physical or occupational therapy assistants or aides. We provide 1:1 treatment and you don't have to sit and wait for your session to begin. You don't have to burden a spouse, child or neighbor to get you to your appointment because we come directly to you. We make getting therapy easy and fun.
On The Move Rehab provides Care. Convenience. Credibility.
Request Help or Information by filling out the form below