Alabama Family Trust
We know that you have questions about how to pay for long-term care in a nursing home for an aging parent or loved one and how to also protect their assets. For the elderly who are over the age of 65 entering a skilled nursing home in Alabama and certain other states, Alabama Family Trust can set up a special needs trust which can enable that individual to keep the "spend down" to pay for needed items and services not covered by Medicaid. While it could be a little intimidating to think about setting up a special needs trust – but if you have a disabled loved one entering a nursing home, you can't afford not to think about it! Fortunately, the Alabama Family Trust brochure is here to make understanding special needs trusts for the elderly easier than ever.
Alabama Family Trust Brochure on Special Needs Trusts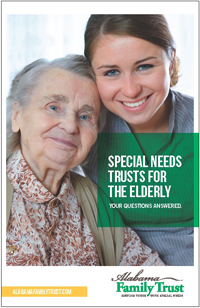 Inside the brochure, you'll find essential information like how to financially qualify for Medicaid, how a special needs trust can protect your loved one's future, how are the trust funds managed and invested, what types of disbursements can be made out of the trust for items and services which enhance their life, health, and welfare. You will also see those next steps for setting up a special needs trust.
Once you've read through it (it's an easy read – we promise!), contact us toll free at (844) 238-4630 to start a conversation about setting up a special needs trust for your elderly loved one. We are ready and willing to walk this path with you to help you protect your aging loved one today! It is important that you check your own state's rules on special needs trusts for the elderly entering skilled nursing homes.
Request Help or Information by filling out the form below