Comfort Keepers Bloomfield and Manchester Connecticut
Our Comfort Keepers office is located in Bloomfield, CT and has been serving the Bloomfield and Manchester areas of Greater Hartford CT "East and West of the River" since 2003, providing companionship, homemaking, personal care, and transportation for seniors and adults in need of assistance with the activities of daily living.
Comfort Keepers caregivers strive to build a positive relationship with their clients through interactive caregiving, helping to "keep" them in the "comfort" of their home.
Comfort Keepers is registered with the CT Dept. of Consumer Protection as a Homemaker Companion Agency # HCA.0000.563, as is required of all businesses providing in-home care in Connecticut.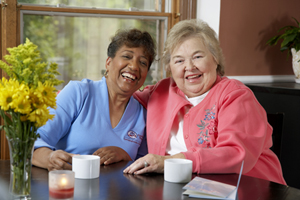 Comfort Keepers is an employment model agency. All of our caregivers are employees of Comfort Keepers and are residents of our local community. Each employee caregiver is bonded, insured, background checked, covered by Worker's Compensation and supervised by the Client Care Coordinator/Nurse. Comfort Keepers also verifies employee eligibility to work in the U.S. and coordinates payroll, with all applicable taxes paid.
The Client Care Coordinator/Nurse participates in the assessment process and helps to develop the customized, written plan of care, supervises the caregivers and communicates with clients and families.
Caregiver arrival and departure is tracked through a telephone time clock system. Comfort Keepers main office telephone 860-242-7739 is answered live 24/7/365 by our on call management staff.
Request Help or Information by filling out the form below