Family First Funding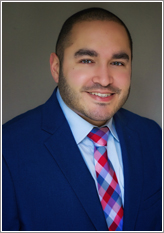 Reverse mortgages do not have to be the complicated and misunderstood program like you may think. I have specialized strictly in reverse mortgages for the past four years and take pride in being able to educate my clients on exactly how the program works for them. Using the education I have of the program, I not only help people all over New Jersey, but those all across the country as I am licensed in states across the U.S.
This is a big decision in a client's life and I want to be sure I am there for them through the entire process. This is not something to be rushed and I only move forward at whatever pace you are comfortable with. That is why making sure they know every in and out of the product is very important to me, so that when they make this decision there are no surprises. I also encourage clients to have anyone that may have doubts about them doing this to meet or give me a call, so I can answer any questions or concerns they may have as well.
It is my responsibility to give my clients the service they deserve and help them with this financial decision. I look at every client like a family member and treat them how I would want a family member to be treated in any kind of situation. Because of this I always make myself as transparent in the process as possible and give them my personal cell phone number to be reached at any time of the day. If a reverse mortgage has ever come across your or mind or simply just want to see what you would qualify for, give me and a call and I will gladly go over everything with you.
Request Help or Information by filling out the form below