Atria Greenridge Place at Rocky Hill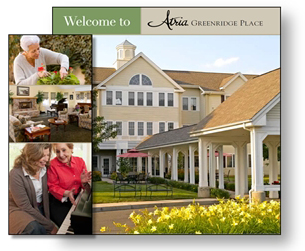 Atria Greenridge Place is a beautiful community that is nestled in a residential area along the Hartford River on more than six secluded acres, that offers independent and assisted living options as well as an award winning memory care community we call life guidance.
We are a vibrant senior living community where older adults enjoy an active, independent lifestyle and (if needed) discreet support with everyday care needs from a 24-hour staff. Free from the burdens of home maintenance, transportation and chores, residents have more time to pursue new interests or favorite pastimes. I like to call us "the cruise ship without the water" because we are focused as a "social model" each month is filled with more than 200 social, cultural and educational events, including live musical performances, art classes, and outings to nearby theater and museums.
Atria's staff who serve our residents are truly committed to their purpose to helping our residents thrive and it is evid ent in our longevity, our average employment tenor here in the community is 8.5 years with many that have been with us 10 to 19 years. Maybe that's why the Rocky Hill Chamber of Commerce voted us "BEST RETIREMENT COMMUNITY" for 3 years in a row!
Request Help or Information by filling out the form below