Live Life Mobile Medical Alarms with Fall Detection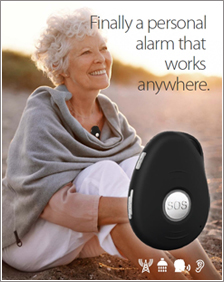 Customers do not need to pay $40-$80 a month for a medical alert device anymore. Our customers just purchase the device and we program and send it to them ready to be used right away.
The LiveLife Mobile Alarm is a waterproof pendant your client would wear wherever they go inside or outside your facility. When they need help all they have to do is press the button and the pendant will text and call up to 5 emergency contacts (can include 911). Any number can be programmed. We can also set it up for email alerts as well.
Each text message to those people will show their exact location on Google Maps using the built-in GPS. When the call from the pendant is answered they can speak and listen 'hands free' through their pendant.
Fall detection is also built in, meaning when a serious fall occurs the pendant will send out 'fall alert' texts and then begin to call the 5 numbers. At any time a family member, carer or health professional can call the pendant and speak to the wearer. By doing this they can reassure them if they are hurt and pass on medical information to first responders who may have arrived at the location.
This is a standalone device with its own mobile number using the mobile network. It comes all setup and ready to go. It used by many customers in their homes that want peace of mind that they can also go anywhere and feel help is a press of a button away. It is also used by many home care organizations, independent living and residential care facilities in USA. It is a one off purchase with no monthly monitoring fees. It's very simple for the elderly to use. The device has a built in prepaid SIM card.
Key features
Texts and then calls up to 5 contacts (can call 911). Call feature can be turned off.
Has 2-way "hands-free" voice communication with high quality, easy to hear audio.
Uses GPS and Google maps to send your client's exact location to their contacts immediately.
In built fall detection for serious falls. Sends "fall alert" to up to 5 contacts and then calls.
If activated, anyone can call the pendant. Pendant can call out to a nominated contact.
No monthly monitoring fees. No contracts. 12 month warranty.
Pendant is waterproof, comfortable and weighs the same as three 20c pieces.
Winner: Choice Magazine 2017 – Best personal alarm system.
Please don't hesitate to contact us if you have any further questions.
Live Life Mobile Alarm Testimonials
"Thank you so much!!! My mother has really become excited about this alarm as a way to stay more independent by not risking a fall without back-up. It has also meant she has talked to a couple of neighbors about helping her whereas, previously, she was quite isolated. From being confronted by the idea of an alarm suggesting she is frail, she is now seeing it as a way to prove she is strong and has organized her life with support in case things go wrong. Really brilliant. Thanks – Jenny" - Ogden UT"

"The reason I purchased the LiveLife mobile alert is because I've been worried about Dad for quite a while now. A friend of a friend bought the LiveLife alert about a week ago for their Dad and the day after he received it he had a very bad fall and the alarm worked perfectly. If he hadn't had the alarm they say the outcome would not have been good at all. I also love that I can call Dad on his mobile alert any time I like. I think we'll give up on his cellphone which will basically pay for his mobile alarm. -:) Terri" - Butte, MT

"Hi there Os, just a quick courtesy note. Received unit Tuesday. Had a good read of supplied literature. Today we delivered, set unit up for 101 year old mother-in-law. Went over what unit was capable of doing with her, had lunch, came home then had much loved, centenarian give us a test run. Pleased to report " We are all relieved that help is just a push of button away". All OK. Regards Ken" - Rochester, NY

"My husband is in the early stages of Alzheimer's. He continues to enjoy riding his bike and I used to get very worried as he would sometimes have difficulty finding his way home. Getting him a Live Life mobile alert was the best thing we have done as now I can readily find out quickly where he is. He recently went out cycling and was gone for some time so I called him on his alert pendant. Not only could I talk with him but the Mobile Alert sent me an automatic return text showing his exact location on Google Maps. This has given me so much confidence now and allows him to continue doing what he loves." Mel H. - Renton, WA
Request Help or Information by filling out the form below