The Caregiver Resource Center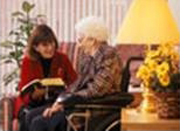 For more than 25 years, The Caregiver Resource Center has been providing a spectrum of concierge case management and advocacy services for seniors, people with special needs, and their families.
Each person is unique, and as a result each person has unique needs. Some people may experience mental and physical limitations that limit their level of functioning, while others will remain relatively high functioning.
The Caregiver Resource Center's role is to work with the client, their family and healthcare professionals to help assess, plan for and implement ways to allow for their greatest degree of health, safety, independence, and quality of life.
This process involves identifying a client's abilities and needs, and helping to design a care plan (road map) that is composed of a spectrum of services, that best meets the unique needs of that particular client.
A client and their family select the services that they want, and they only pay for those services.
Some Benefits of Our Services
Well respected company serving the community since 1990
All services are individually designed to meet the unique needs of the client
We are available 7 days a week by appointment, and 24/7 for emergencies
Professional support & guidance
Our services may be provided on-site across the spectrum of care (home, doctor's office, ER, hospital, short-term rehab, assisted living facility, or nursing home
Our Menu of Services
Advocacy
Screening, arranging for and monitoring Care Services
Home Safety Audit
Emergency Medical Advocacy while in the ER or hospital
Transitioning to an alternative living option (e.g. home to assisted living)
Referrals to Specialists (e.g. medical, legal, or financial professionals)
Family Support & Counseling
Insurance Claims Research & Assistance
Research of Community Resources
Family Discussions and Issue Mediation
Crisis Management
© 1990-2016 The Caregiver Resource Center
Request Help or Information by filling out the form below