Family Wealth Managment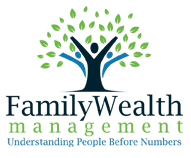 Martin V. Higgins, , CFP, CHFC, CLU, AEP is founder of Family Wealth Management, a wealth management firm. He specializes in providing tax-efficient strategies designed to preserve and grow family wealth.
Marty is a Certified Financial Planner (CFP)TM practitioner and past President of both the South Jersey Chapter of the Society of Financial Service Professionals (SFSP) and the Estate and Financial Planning Council of Southern New Jersey (EFPCSJ). He is a member of the FPA (Financial Planning Association), a Chartered Life Underwriter (CLU) and an Accredited Estate Planner (AEP) and most recently earned Chartered Financial Consultant ® (ChFC®) designation, Financial Planning's Highest Standard.
Marty was inducted into Research Magazine's Advisor Hall of Fame, recognizing excellence in the profession. 2000 Research Magazine Hall of Fame Candidates must pass our rigorous screens, including: service for a minimum of 20 years in the industry, substantial assets under management, superior client service, and recognition from their peers and the broader community for the honor they reflect on their profession.
Marty is co-author of two books, Dream, Inc., which features 32 Philadelphia area entrepreneurs and how they built successful companies from scratch. He has also contributed to Dan Kennedy's book The Ultimate Success Secret. He has been a featured speaker throughout the country and overseas for many industries and company training programs. Marty also regularly contributes to various industry magazines and local media. His latest book "DistributionLand", published in October 2014, immediately became an Amazon Best Seller and is a must read for anyone preparing for retirement .
Our Goals include:
Pro actively contacting clients when market changes may impact their investments.
Clearly explaining our fee structure
Clearly understanding your goals and family situation before giving investment advice
Bringing in experts to help with other financial areas
Helping select a suitable asset mix for your portfolio
Developing a financial plan that coordinates your money with your life
Helping you coordinate and organize all of your financial documents
Assisting you in coordinating investment decisions
Request Help or Info in the Form Below