Stubbins, Watson & Bryan, Co., L.P.A.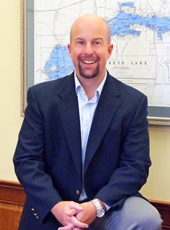 Stubbins, Watson & Bryan Co., L.P.A. is an Ohio law firm in the heart of downtown Zanesville. Our firm is a unique combination of seasoned attorneys with diverse backgrounds who came together in 1988 to provide quality legal services across a broad spectrum of client needs. Our clients benefit from the depth of each attorney's niche practice and skill set in a specific area of law, as well as their close association with similarly experienced attorneys in complementary areas. Our attorneys' close collaboration allows us to accommodate client needs in nearly every possible way. Our firm goes even further to ensure quality service with a deep commitment to personal attention: Our attorneys meet with clients individually, and our friendly administrative staff is readily available to answer questions.
About Me
Michael Bryan was born in Zanesville, Ohio, on October 10th, 1975. He was admitted to the State of Ohio Bar in 2001 and The United States District Court for the Southern District of Ohio in 2002. Bryan attended The Ohio State University and graduated with a Bachelor of Science in Business Administration in 1998. Bryan attended law school at Capital University Law School and graduated with a Juris Doctor in 2001.
He is also admitted to practice before the United States Court of Appeals for the Federal Circuit and United States Court of Appeals for Veterans Claims.
He practices extensively in the area of long term care planning, elder law, guardianships and estate planning, including asset protection strategies regarding Medicaid and Veterans Benefits eligibility.
Bryan was selected as a 2014 & 2015 Rising Star in the practice area of Elder Law by Super Lawyers Magazine.
Request Help or Information by filling out the form below