JD, CELA, VA Accredited Attorney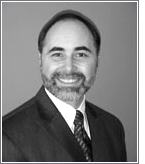 Sandy is the founder and senior partner of Mall Malisow & Cooney, PC - The Holistic ElderCare, Special Needs & Estate Planning Law Firm located in Farmington Hills, Oakland County, Michigan. He is also the past Chairperson of the Elder Law & Disability Rights Section of the State Bar of Michigan, and he is nationally board certified as an elder law attorney (CELA) by the National Elder Law Foundation and a VA Accredited Attorney. Mr. Mall is a contributing editor and faculty for the Institute of Continuing Legal Education (ICLE) and is presently writing a practice manual for Michigan elder law attorneys tentatively titled "Michigan Elder Law Practice" and planned to be published by Thomson/Reuters in 2009.
Sandy's credentials including his CELA designation further distinguishes him in the practice of law as a nationally recognized expert in his practice areas of estate planning, elder law, special needs disability planning and advocacy, and estate administration. He was also selected by Worth Magazine as one of the Top 100 Lawyers in the country and has been designated a Super Lawyer. He is a frequent speaker for the legal, accounting, health care, mental health and financial advisory professions as well as being the author of numerous articles and seminars on all topics within his areas of expertise.
In addition to his membership on the State Bar of Michigan Elder Law & Disability Rights Section Council, the Probate & Estate Section, the Health Care Section and the Social Security Section, Sandy serves on the Wayne State University Institute of Gerontology (IOG) Elder Law and Finance Committee, the Federal Reserve Money Smart Week Advisory Committee, serves as a Trustee for the Disability Network Oakland Macomb (DNOM), the National Academy of Elder Law Attorneys (NAELA) Benefits and Finance Section Steering Committee, and ElderCare Matters Editorial Board. Sandy is also a member of the ARC, the Financial Planning Association of Michigan, the National Council of Probate Judges, the Academy of Special Needs Planners, the Michigan Association of Justice (MAJ), Wealth Counsel, and the International Alliance of Holistic Lawyers.
Mall Malisow & Cooney, PC provides holistic legal counseling and advocacy services to individuals, families and estates. The firm's full service legal practice areas include estate planning, elder law, mediation, Medicaid / Medicare beneficiary rights, elder care advocacy, special needs disability planning and advocacy, VA Benefits planning, probate litigation, and estate administration. The firm works collaboratively with professional colleagues throughout the United States primarily serving the Oakland, Wayne, Washtenaw, Macomb and Livingston Counties.
Request Help or Info in the Form Below