Bone Financial Group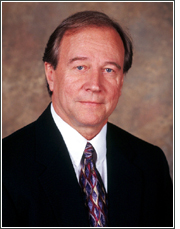 Bone Financial Group is a small advisory firm located in Raleigh, NC.
We bring to the planning table a group of highly skilled advisors to provide financial guidance. Our offerings include document preparation (wills, trusts, and powers of attorney), sophisticated money management and real time re-balancing options, qualified and non-qualified retirement planning, risk management, and offshore trust planning.

My Credentials:
Horace Bone is a native of Raleigh, NC and graduated from NC State University with High Honors. He studied in Germany as a German Academic Exchange Fellow and has completed a PhD degree at the University of Wisconsin, Madison.
A little more about my background and my experience:
Horace Bone's relationship with his clients changed February 16, 2007. On that day his mother died, just shy of age 98. She had spent the last five years receiving in-home, round-the-clock nursing care. Her savings were decimated by the cost of long term care; her home, mortgaged.
Horace had been Mary Jo's primary caregiver for years until her dementia finally required continual care. "I must have taken over a thousand phone call from her over the last 10 years", says Dr. Bone. "I once asked her if she knew whose number she was ringing when she dialed my number. She said, 'That number rings a lot of places!' I'm glad she never knew that number rang at my desk every single time she dialed it."
Today, Horace helps his friends and their parents avoid the situation in which his mother found herself. "You need not lose your assets and your home in order to qualify for government assistance," says Dr. Bone. "If you need long term care, and over 50 % of us will, you will either spend down your assets until you qualify for governmental assistance, or you will plan ahead and be able to qualify for assistance long before you go broke and lose your home."
Optimally, the best time to plan is when you are healthy, and you can incorporate long term care planning into your estate and tax planning, along with guaranteed retirement income planning. However, a spouse may currently be in a nursing home or about to be admitted. This situation calls for immediate crisis planning. A number of moves should be taken to protect the at-home spouse and the home. A delay may cause the loss of the home and the impoverishment of the at-home spouse. "We are our brother's keeper", says Dr. Bone, "and that is the principal way we differentiate ourselves from the big planning firms and brokerage houses. Our service is personal, and we share your successes and failures."
Request Help or Information by filling out the form below