Assistance Home Care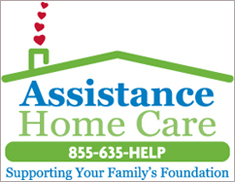 Assistance Home Care provides non-medical in-home companion care and homemaker services to adults and seniors, bedside assistance for patients in hospitals or rehab centers, aftercare for patients recovering from surgery to new and expectant mothers. Options include hourly in-home care and 24-hour live-in care.
We provide highly trained, experienced, compassionate and dependable caregivers at affordable rates. Our in-home aides provide our clients with loving personal care to help make their lives easier. Whether at home, in a retirement community, assisted living facility, or a nursing home, Assistance Home Care offers a helping hand with a full spectrum of private duty home care needs. Clients can retain their independence, while their families have the peace of mind that their loved ones are safe and well cared for.
All our caregivers are carefully screened, bonded and insured so you can trust you are getting the best possible in-home senior care assistance. We match up our caregivers that align with your specific preferences and stand behind it with our 48-Hour Compatibility Guarantee.
We provides a wide array of in-home senior care services in the St. Louis and surrounding areas, including:
Companion Care
Providing socialization, friendship and support
Assistance with hobbies and interests
Going on walks and encouraging and participating in stimulating activities
Helping with correspondence to family and friends
Providing respite for family caregivers
Personal Care
Dressing and grooming assistance
Providing hygiene assistance
Reminding clients to take their medication
Supervising ambulation and helping to prevent falls
Household Support
Preparing and serving meals according to client's dietary needs
Cleaning the bathroom and kitchen after use
Cleaning and mopping the floor
Cleaning the client's room, this includes dusting and vacuuming
Taking care of personal laundry and bed linens for the client
Making and changing the bed
Physician appointment coordination
Transportation / Errands Support
Driving and/or accompanying the client to the physician
Shopping and performing other household errands
Transportation and escort to religious services, visit friends and social activities
Assistance Home Care was founded on the principal of providing the highest quality, dependable home care for those who wish to remain in their own homes and need some assistance. Our personal caregivers encircle your loved one with encouragement and security offering the opportunity to age and/or recuperate with dignity in a familiar environment. Not only is Assistance Home Care quickly and easily available, it can be as flexible in meeting home care needs as a family wishes. Seniors, elderly, those with Alzheimer's or other cognitive impairment as well as recovering senior surgical patients or those with special needs will be cared for by our highly qualified staff of Certified Nursing Assistants (CNA) and Home Health Aides (HHA).
A free in home Needs Assessment is conducted to fully understand your needs. The result is a home health care program tailored to the individual's needs. We believe in empowering our clients to live as independently as possible. To this end, we carefully assess the level of support needed to assist our clients, so our caregivers help when necessary, allowing our clients to be as independent as possible. Whether it is health care or assistance with daily living activities, Assistance Home Care team of caregivers is qualified to provide exactly the home care services required.
Seniors who remain in their own home with a nurturing, stable environment will continue to be more socially engaged, more physically active and achieve a greater state of well being. In selecting the best home care services for yourself or a loved one, it is the human element that is most important. Our agency works tirelessly to ensure the perfect fit between patient and home care professional. Just a phone call away, available day and night, Assistance Home Care will be there to meet your home care needs on a moments notice. Providing for you and your family's safety and care is our main concern. Let Assistance Home Care support your family's foundation.
Our Care Team is available whenever you need us day or night with our 24/7 on call assistance.
To schedule your free in-home care assessment, please call us at (855) 635-4357 or email us at info@assistancehc.com
Request Help or Information by filling out the form below