Law Offices of Roman Aminov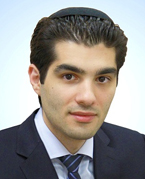 The Law Offices of Roman Aminov is a client centric trusts and estates practice concentrating in estate planning, elder law, and probate. We handle the drafting of wills, powers of attorney, health care proxies, and trusts of all types.
Mr. Aminov's expertise lies in being able to sit down with a client and properly ascertain their current situation and plan the most effective way forward. He has successfully implemented estate plans in high net worth individuals and middle income clients with complicated family situations. Our firm often represents family members in probate and estate administration proceedings throughout New York City and Long Island. Mr. Aminov also helps elderly clients structure their assets to qualify for Medicaid. His writings on estate planning and elder law topics are published regularly in magazines across the New York Metropolitan Area.
Our office takes pride in being accessible to our clients and treating them as we would our own family. For us, it is all about being there for our clients during their critical decision making moments. Allow us to advise and represent you on your important matters in a timely and professional manner while offering invaluable legal advice. Come in for a consultation to see why our clients would never go to another firm again.
About Roman Aminov, Esq.
Roman Aminov, Esq. is an estate planning and elder law attorney with an office in Kew Garden Hills and Brooklyn, NY. Having been raised in Forest Hills and Jamaica Estates, Mr. Aminov is involved in the promulgation of civic and communal life in Queens through his long standing and continuous involvement in various non profit organizations. He is a regular columnist in the Chazaq Magazine and the Jewish Home, writing on estate planning and elder law topics. He has also been a guest lecturer for the Orthodox Union on estate planning. Mr. Aminov is also an adjunct professor in the paralegal department of Bramson-Ort, teaching a course in estate planning and estate administration.
Roman Aminov graduated magna cum laude with a B.S. in Real Estate Development from Baruch College and received his J.D. from St. Johns School of Law, where he focused on trusts and estates. He is licensed to practice in the courts of New York State.
With a concentration in estate planning, elder law, and probate, Mr. Aminov understands the needs of his clients and is focused on solving difficult problems that accompany planning for estate administration, planning for Medicaid long term care, or dealing with the loss of a loved one.
Practice Areas
Estate Planning
Medicaid Planning
Elder Law
Probate
Estate Administration
Real Estate
Memberships
Mr. Aminov is an member of the New York State Bar Association, the Queens County Bar Association, New York City Bar Association, and sits on the board of the Queens Jewish Community Council.
Request Help or Information by filling out the form below