Abington Caregivers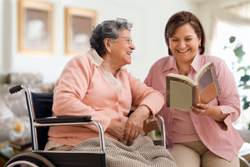 Welcome to Abington Caregivers.
We believe that Home is the Best Medicine.
We know that Your Loved One's Home is their Best Medicine. We are ready to Serve them in the Comfort of their Home.
Abington Caregivers was founded out of personal experience and mission to continually raise the standard of private homecare through innovation, education, and most of all compassionate care. Caregiving is our calling!
We offer our Clients a full-range Homemaker-Companion care. Each and every Caregiver is carefully selected based on skill level and competence, with complete background checks and reference verification. Our compassionate Caregivers have Servant's Hearts and we offer the following three levels of Care:
Companionship
Homemaking
Personal Care
We provide Medicaid Services and Veterans Assistant Program for Veterans and Widows.
Request Help or Information by filling out the form below