Open Mortgage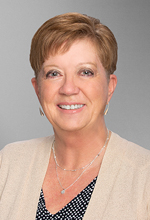 Melinda Hipp is a Branch Manager with Open Mortgage and specializes in working with senior homeowners 62 and over who would like to access the equity in their home through a Reverse Mortgage.
She has handled hundreds of satisfied Reverse Mortgage clients over the past twelve years with many raving fans. She and her team are dedicated to giving you boutique service, a quick closing and personalized customer service.
About Melinda
Melinda regularly provides training to local real estate professionals and holds the designation of MBA, CRMP (Certified Reverse Mortgage Professional) and CMC (Certified Mortgage Coach) Melinda is also an active member of NRMLA (National Reverse Mortgage Lender's Association).
An avid golfer, Melinda was a charter member of the San Antonio Chapter of the Executive Women's Golf Association. She is currently a member of the National Reverse Mortgage Lender's Association, Women's Council of Realtors, San Antonio Board of Realtors, CRS and a board member of Golf San Antonio.
Request Help or Information by filling out the form below