Specialized Care Management, Inc.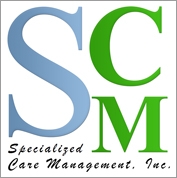 Specialized Care Management affords peace of mind to busy family members who may not live in close proximity to their aging loved ones. We facilitate local resources and support systems for seniors and disabled adults, including placement options. We are your local, experienced professionals to be here when you cannot.
A professional Care Manager guides you through your concerns and offers detailed, timely, and practical solutions. Our concierge approach brings services right to your door.
About Care Management
The NAPGCM Care Manager is a health and human services professional, with a specialized body of knowledge and experience related to aging and elder care issues. The Care Manager assists older adults and persons with disabilities in attaining their maximum functional potential, and delivers care-coordination and support services with sensitivity to preserve the dignity and respect of each individual.
It is simple to engage the services of Specialized Care Management. We are available to provide you with a 30 minute complimentary telephone consultation, thorough assessment, and ongoing care management specific to your individual needs. We evaluate an individual's level of functioning, their overall health, medications, medical providers, safety, emotional state, and legal/financial needs.
Request Help or Information by filling out the form below