SunCoast Senior Solutions, LLC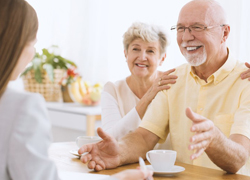 Our Senior Care Consultants guide individuals and their families through the process of finding the best community to fit their loved ones needs. Whether in assisted living communities or memory care. We will make sure to listen with you, making sure we understand the type of care that is needed, medical, and financial limitations. We will plan with you, making sure we look at the agencies, partners and communities together. This will allow you to make the best decision for your loved one. We will be your guide, taking every step with you, helping you understand the process.
About Norma Jones
I have made my home and work life in the Treasure Coast. Through my work, I am committed to helping seniors or caregivers find solutions for assistive care. I have worked well over 10yrs assessing seniors for their care needs. I believe that finding solutions for seniors is not only my passion but a collaborative endeavour that requires honest and caring individuals. I cooperatively assist my clients in clarifying their care needs. As a coordinator and consultant, I am a great listener, warm, open, encouraging, and compassionate. I consider myself an active guide and advocate, combining experience, creativity, and down-to-earth, realistic approach to my solutions for care or living.
Request Help or Information by filling out the form below