Resources and Education for Caregivers of Aging People (RECAP)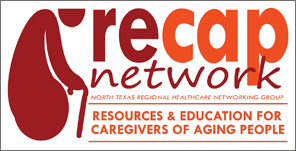 Resources and Education for Caregivers of Aging People (RECAP) was created by Trish (Reiner) Burwell in 2011 as a networking and resource group for local healthcare professionals. The goal of this group is to build working relationships with fellow local professionals for the benefit of caregivers and their loved ones.
About Trish Burwell
Burwell has held the office of Councilmember for the City of Granbury since 2017 and currently serves as Mayor Pro Tem. She also acts as a Hood County representative for the Regional Agency on Aging Committee (RAAC) through the North Texas Council of Governments, as well as Chairman for the Hood County Local Emergency Planning Committee (LEPC). In addition, she currently serves on the Board of Directors for the Hood County Senior Center and the Board of Directors for the Transit System.
Prior to her leadership and community involvement in the city of Granbury, Burwell worked for international public relations firm Burson-Marsteller in California's state capitol, Sacramento, building grass roots groups, developing pertinent messaging, and promoting educational campaigns. Before her work in public affairs, she served as an intern in the office of former Governor Pete Wilson, coordinating educational tours and monitoring media coverage for the Governor's Northern California Field Representative.
Burwell earned her Bachelor's Degree in Communications from California State University, Sacramento and is currently working toward earning a Master's Degree in Public Administration from Tarleton University. Her future plans include engaging in advocacy at the state level.
Request Help or Info in the Form Below