Monty L. Donohew, LPA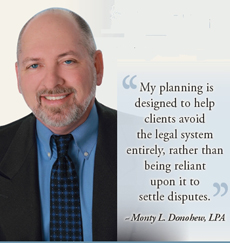 Monty L. Donohew is a Veterans Administration (VA) accredited attorney concentrating his practice in the areas of estate planning, wills, trusts, probate, succession planning, real estate, elder law and wealth advisory law.
Licensed to practice law since 1987, Monty currently practices in Ohio and Missouri.
Monty received his Juris Doctorate from Washington University Law School in St. Louis, where he served on the Washington University Law Quarterly, Washington University's most prestigious law journal. Monty received his B.A. in political science from Eastern Illinois University, where he attended on a full academic scholarship.
About Monty L. Donohew
In 2010, Monty was presented the "Doing the Most Good," Award from the Northeast Ohio Division of the Salvation Army, "for supporting others in the creation of an unwavering legacy." In 2014, Monty received an award from Martindale-Hubbell®, the attorney peer review rating service, for his Fifteenth Anniversary of receiving from Martindale-Hubbell® a Peer Review Rating, representing a Very High Rating in Legal Ability and Ethical Standards. Monty is pleased to serve as a Lifebanc Ambassador, dedicated to increasing awareness about organ, eye and tissue donation, and a state liaison for National Health Care Decisions Day.
Monty is a frequent speaker at seminars and workshops. He has conducted "in-house" estate planning classes for several insurance agencies, brokers, and senior service organizations and groups. He presented bi-annually a twenty-hour educational seminar approved for continuing professional education credit entitled, Estate Planning and the Insurance Professional. He is also a frequent speaker at continuing legal education programs sponsored by the National Business Institute, including most recently, speaking about "IRA Trusts" in the program entitled Trusts: The Ultimate Guide, in Cleveland Ohio (Dec. 2017), and about "Ethics for Estate Planners," in the program entitled Estate Planning for Farmers and Ranchers, in Canton, Ohio (Nov. 2015), and about "Health Care Planning" in the program entitled Planning for Retirement and Long Term Care, in Cleveland, Ohio (April 2013).
Request Help or Information by filling out the form below